Specifications vacuum packing machine
1.keep your food fresh
2.no stale no rotten
3.material:ABS+MS+TPU+Silicone
4.Patent in China
2013 household use kitchen appliances vacuum packing machine: Have you ever been spending a ton of money on groceries, and then finding your food getting stale or rotten before you even have a chance to eat or use what you paid for? There is nothing worse than this. When it comes to preserving food, your two enemies are heat and air.All you need is a vacuum sealer and vacuum bags or jars.Mini-Vacuum Sealer is a great breakthrough in small kitchen appliances industries.   Features: 1.Keep food fresh 3-5 times longer than traditional storage methods 2.Save money by buying in bulk and pre-packaging individual servings 3.Reseal open bags of potato chips and other foods 4.Protect against freezer burn, spoilage and odor 5.Pack lunches, leftovers, snacks or entire meals 6.Protect cherished photos and valuable documents 7.Keep charts, maps and matches safe and dry when boating or camping 8.Seal baseball cards and stamps 9.Wrap cosmetics for travel to protect against spills 10.Prevent silver and jewelry from tarnishing    Using  steps: 1. Put the food like fresh meat, fish, beans, vegetables, fruits, medicine, capsicum, chicken, coolies, dry food etc. to the special designed plastic vacuum freezing bag, which is reusable for more than 30-50 times.  2. Pull the zipper .  3. Place the Bag flat on the counter making sure there is no food above the Maximum Fill Line or under the Air Valve.  4. Press Vacuum Sealer Tip flat against Air Valve.  5. Press the ON Button to remove air from Bag, it will stop automatic when finished (about 10-15 seconds).   We have patent of this handheld vacuum sealer!   Pictures Show: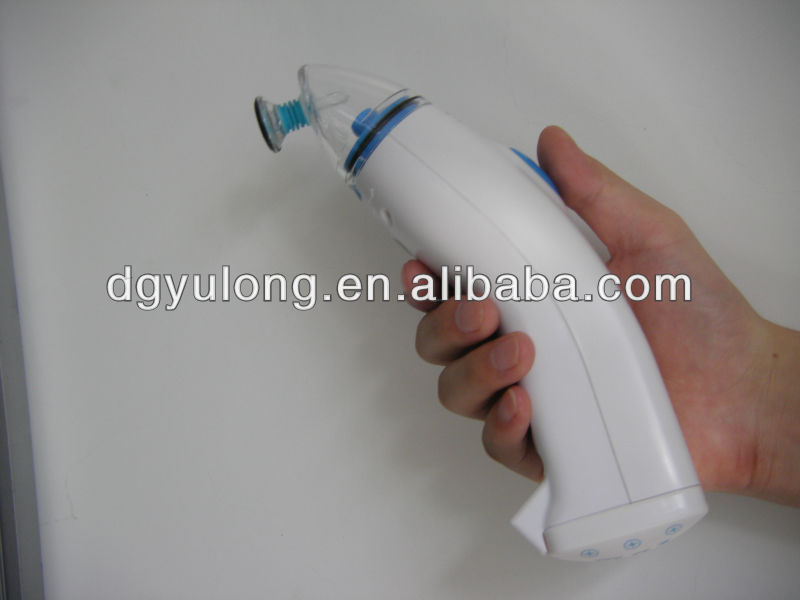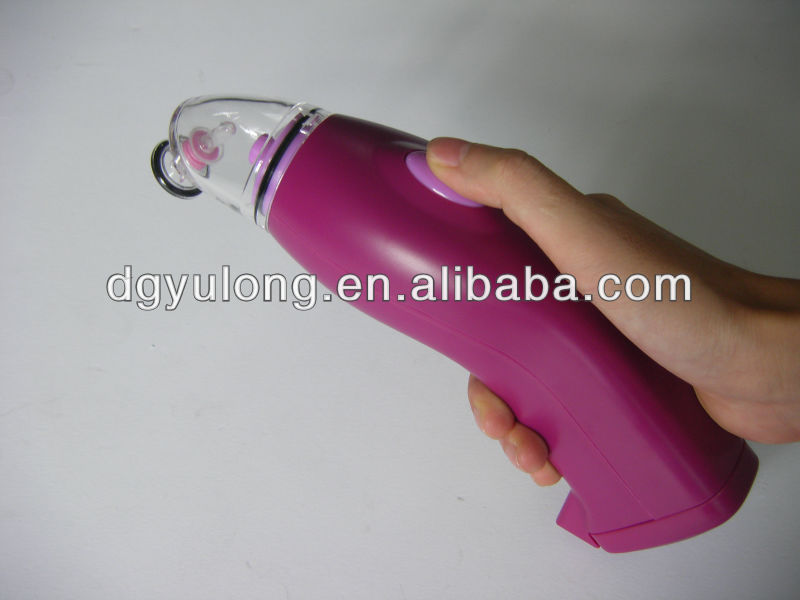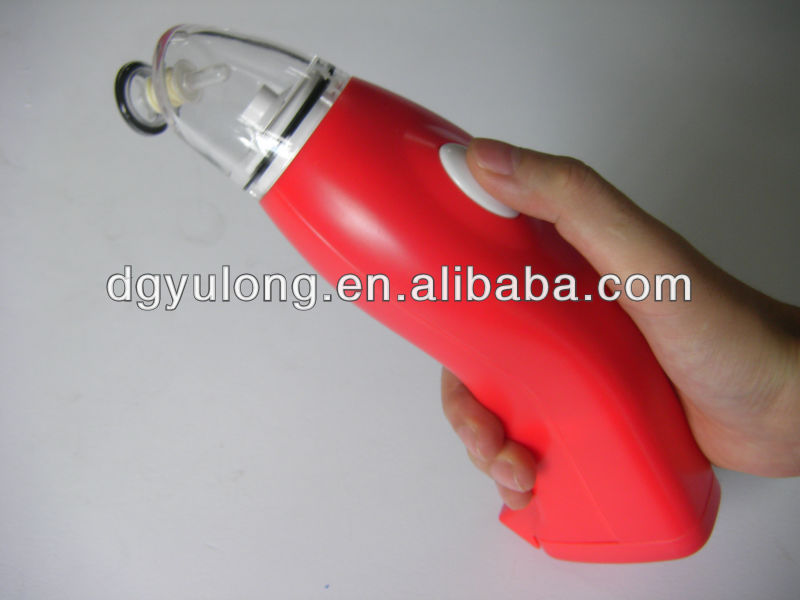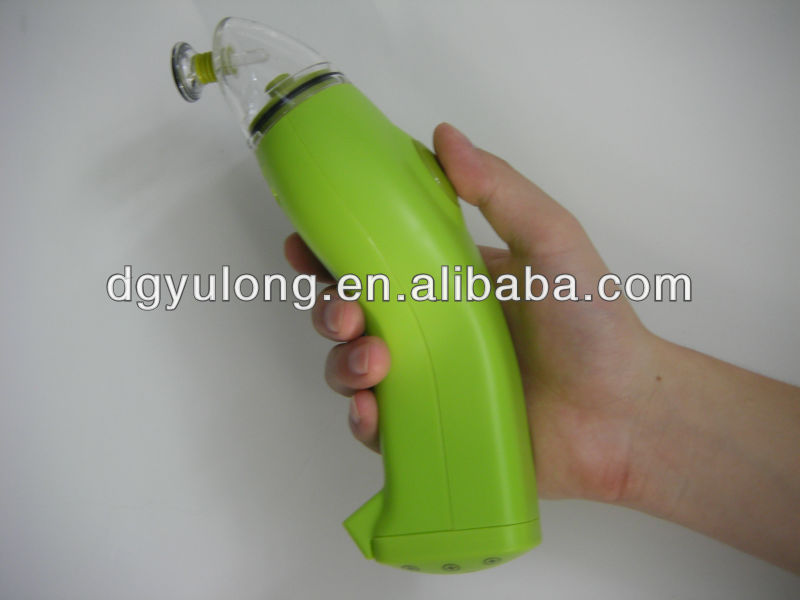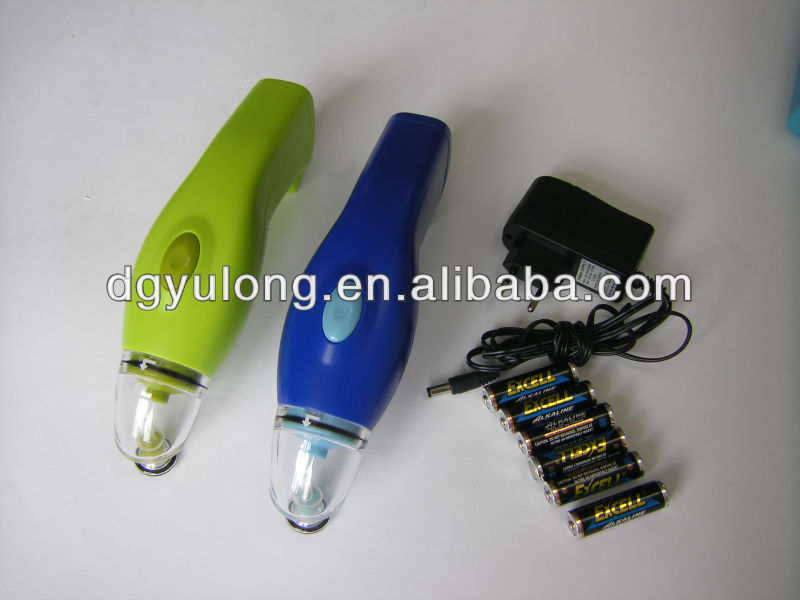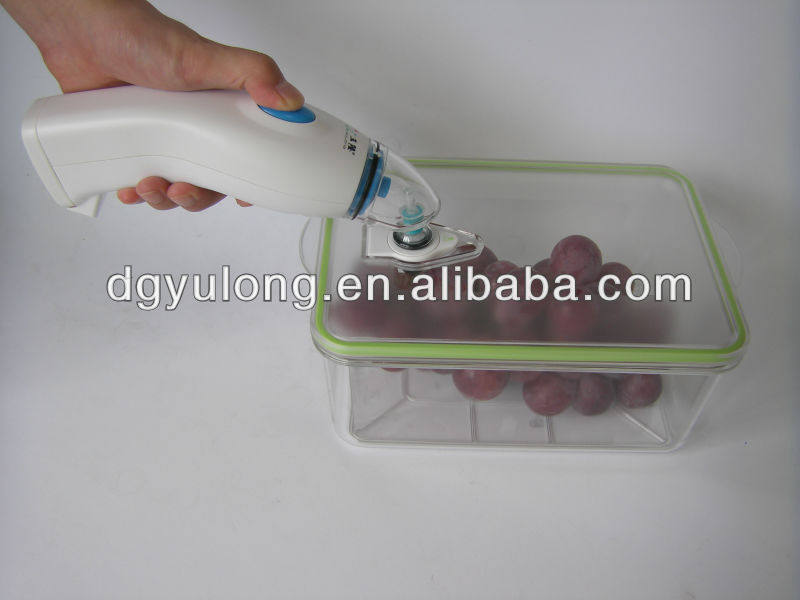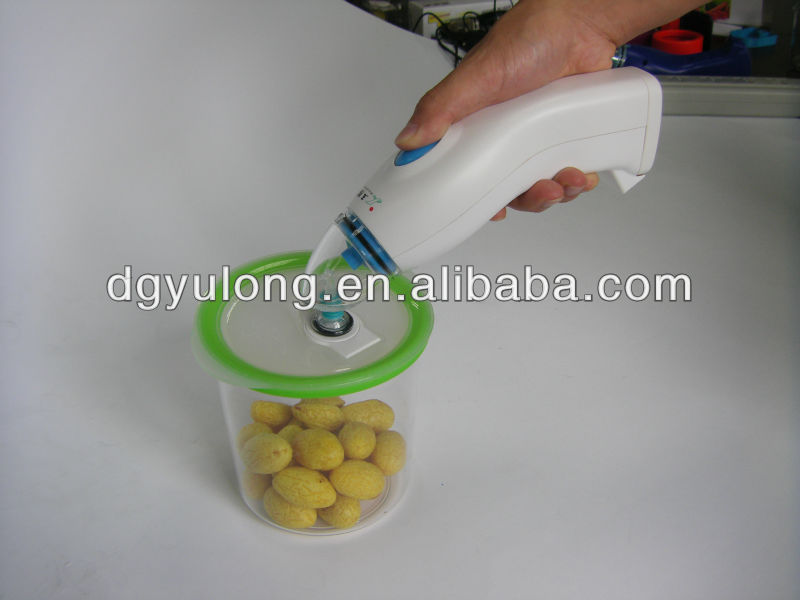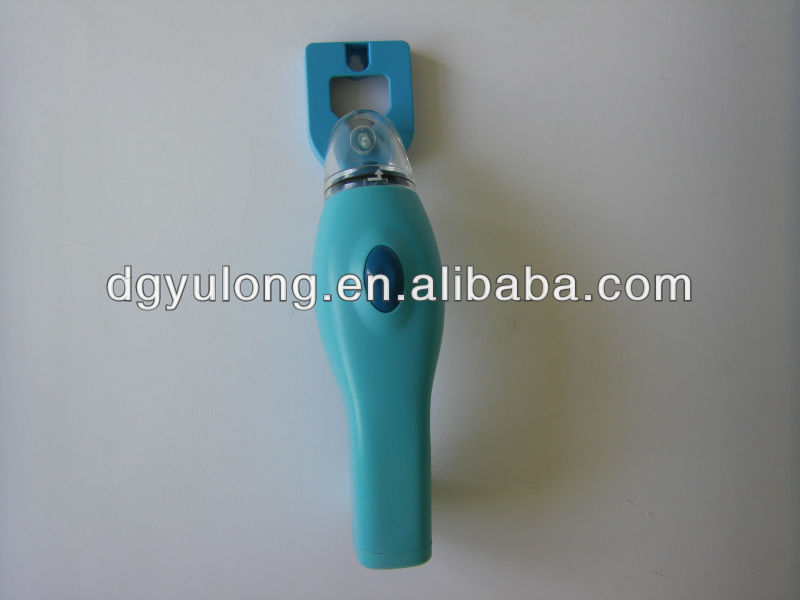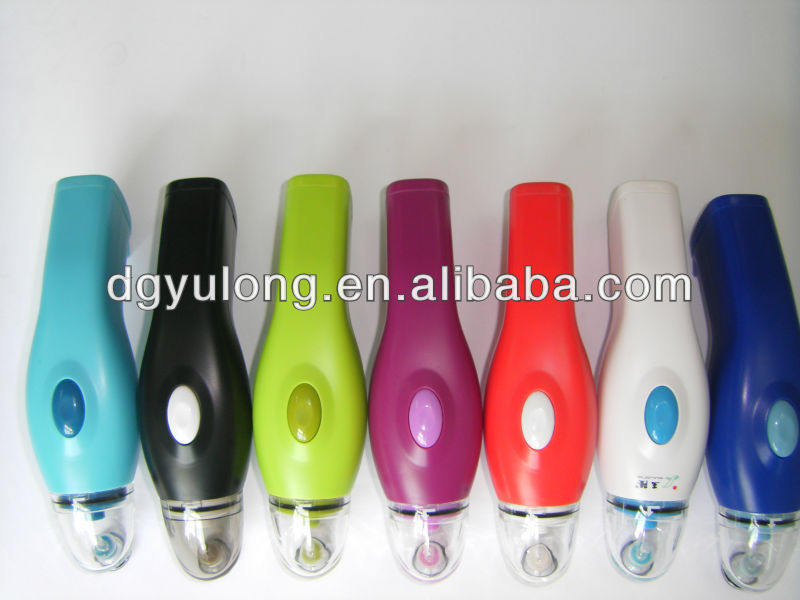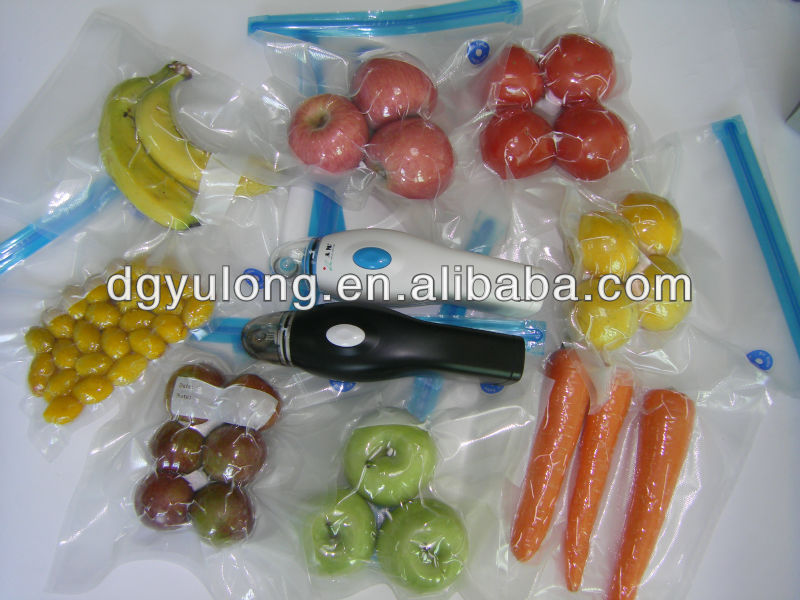 What is the Vacuum Food Storage System? 
The Vacuum Food Storage System is an innovative product designed to extend the shelf life of your food dramatically.   It includes a unique hand-held Vacuum Sealer that removes air from the patented Vacuum Food Bags. Air out, Freshness in. 
How do the Handy Vacuum Sealer and Vacuum Food Bags work?
The Handy Vacuum Sealer works with the patented special vacuum Food Bags with zip top and air valve.  Once air is removed, the Bag forms a tight seal around the food.  This system virtually eliminates freezer burn during freezer storage and retard oxidation & growth of bacteria, and keep your food fresh 5 times longer than other traditional storage methods. 
Is the Vacuum Food Storage System easy to use?
Yes, very easy to use, only a few steps. 1. Put the foodstuffs into the bag and close the zipper of the vacuum Bag ...  2. Place the Bag flat on the counter making sure there is no food above the maximum Fill Line or under the Air Valve.  3. Press Vacuum Sealer Tip flat against Air Valve.  4. Press the ON Button to remove air from Bag. 5.  Release ON Button when Bag becomes tight around food.     What is the advantage of your handy vacuum sealer, compare to other conventional countertop vacuum sealer? 1. Same function, but good quality,high-performance and cost-effective.  2. Easy to use, store and clean, just one hand operation.  3. Convenience, not only use at home but you can also can take it to anywhere,such as outdoor camping,fishing,picnic,etc.   Is there any difference between your vacuum food bag and other food bags?  Yes, our Vacuum Food Bags have a patented Zipper Closure and Air Valve that work with our Handy Vacuum Sealer to remove air and seal tight around the food. Other food bags don't have this good function and it's easy to cause the food damage or go bad.     How many sizes do you have for the vacuum freezing bags? At present, we have 6 different size of the bags:  21*22cm,26*28cm,22*34cm,26*34cm,30*34cm,26*40cm    Can the vacuum bag store liquid? It's not recommended to store liquids or liquid based food,such as soup,porridge etc.  It's great to store the meats freezing coated,fruits and dry foods,or even stamps,photos,forks etc.    Can I take Vacuum Bags in the microwave?
Yes, our vacuum bags are suitable to put into microwave for ice-melting/defrosting using the defrost (30% power) setting.  Open the zipper,  Place Bag on a microwave-safe dish before placing in microwave.  After defrosting, handle with care as Bag and contents may be hot.   How long will the batteries last in the Handy Vacuum Sealer?
Install six new AA alkaline batteries when needed. Or you can use AC adapter to make the sealer work directly. 
What is Freezer Burn?
"Freezer burn" is a condition which occurs when moisture evaporates from the surface of foods in the freezer and causes the food to dry out and become discolored. While freezer burn does not affect food safety, it does reduce food quality.  Freezer burned spots can be cut away before or after cooking.   If a food is heavily freezer-burned, it may be desirable to discard it.  Air removal, moisture-vapor-resistant packaging, a tight seal and appropriate storage time and temperature help prevent freezer burn.       
Dongguan Yulong Hardware & Plastic Co., Ltd.,founded in 2006,specializes in the R&D,  production and marketing vacuum food storage systems for family use. Located in Dongguan,China,our factory covers an area of over 6,000 square meters, with a dustless silk-screen printing workshop, a dustless injection molding workshop and a complete quality control system. We have about 200 well-trained staffs, 20 engineers and technicians.   Our main products include mini handy vacuum sealer, vacuum bag, vacuum lid, vacuum jar, vacuum container and wine bottle stopper. Currently, our patented products have been sold to 50 countries and regions throughout the world and won a good reputation.   We warmly welcome the customers from home and abroad to make a field inspection of our factory and establish a long-term and mutually beneficial business relationship between us.  
Handy VacuumSealer,      vacuum Bags

Household/kitchenware  appliance, vacuum packaging system, food storage facilities, etc.

Limited-liability company

Dongguan

, Guangdong, China

   For selling in

supermarkets,chain stores, online/TV shopping, promotion etc.

North America,Europe & Middle east & South Asia

Yulong Household Vacuum Sealer and Bags

Dongguan Rural Credit cooperative Union, Qishi Branch

Less than 100,000 RMB/year

http://www.yulong228.com




http://yulong228.cn.alibaba.com